Breast Cancer Diagnosis Doesn't Slow Down Spin Instructor
Early detection, patient navigators help Thurston County woman
As a retired nurse and current fitness instructor, Lorraine Clarke is a health advocate for everyone in her life. Sometimes though, it is easy to forget about one's own healthy practices. Luckily for Lorraine, when it comes to mammography screening, that's not the case.
"I do the self-exams, and I've never felt anything, but I was also religious about getting my screening yearly, not just every two years," said the 61-year-old. "And I'm glad I did that, and I tell anyone who will listen how important it is."
Lorraine found out how important early detection is when two suspicious areas were found last November during her annual mammogram. A biopsy was done in December, and one of the areas turned out to be Ductal carcinoma in situ (DCIS), an early-stage breast cancer.
"It was so early that the biopsy actually got most of the cancer, but I did have surgery and then 16 sessions of radiation," Lorraine said. She currently has no evidence of the disease. "Got it early, extremely grateful, and now back in business."
Lorraine actually never left the business. She would teach spin classes in the morning at Tumwater Valley and go to radiation in the afternoon. "The original diagnosis threw me for a loop, but the care team was all so great, answered all my questions and encouraged me throughout," she said.
Navigating Care
One of the first people to contact Lorraine after the diagnosis was Providence Oncology Patient Navigator Karry Trout. By working directly with oncologists, surgeons, radiologists and other clinicians, patient navigators help patients understand and follow their cancer treatment plans. This type of guidance has been shown to improve treatment outcomes for patients. By having someone else to lean on and lead the way, patients and their caregivers can focus on getting well.
"Karry was fabulous, and her communication was spot on," Lorraine said. "Just when I'd get uneasy and have a question, it seemed like she'd call and check in and see how it was going – that was huge. And whenever I left her a message, she'd get right back to me with great information."
Patient navigators with the Providence Regional Cancer System understand "the system" and act as patient advocates, helping cancer patients navigate their treatment and advance from one stage of survivorship to the next. This free service is available for patients to call upon helpful, compassionate guides who will assist them in finding their way through cancer treatment. They provide a key link between patients and medical providers.
It was also helpful for Lorraine's husband of 34 years, Patrick, and their two grown sons, who don't live in the area.
Cancer Survivorship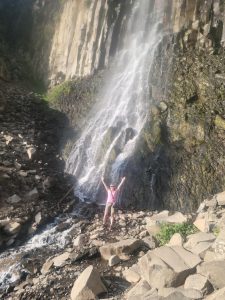 Survivorship begins the day someone is diagnosed with cancer. At the Providence Regional Cancer System, it also means connecting with Providence Survivorship Program Care Management Nurse Tiffany Randich.
Like most patients, Lorraine was done with the medical treatment but was able to utilize Tiffany and the survivorship program for other resources.
"First of all, Tiffany is such a treasure. She contacted me and sent me an amazing folder with everything I had gone through, and that was great because you forget," Lorraine said. "She is so supportive."
One of the services Lorraine was able to take advantage of as part of the program was access to a therapist. "I was able to talk to someone who helped me process the whole experience and what it meant and how it impacted me," she said. "That was extremely helpful. I would highly encourage this to anyone."
Get Your Screening
"I have been preaching to everyone to get their mammograms," Lorraine said. She's back to her full schedule of teaching spin classes and just returned from a week-long trip visiting family. The early-detection mantra was reinforced when she found out a close friend had a similar experience to her own.
"They found it early with her, and everything has turned out well," Lorrain said. "I tell people you have to advocate for yourself, and you've got to stay up on your screenings."
The American Cancer Society says to talk with your health care provider about your risk for breast cancer and the best screening plan for you.
To schedule a screening mammogram in Thurston County, contact South Sound Radiology at 360.252.9301. In Lewis County, contact the Providence Imaging Center at 360.330.8880.